Plan for long-term, sustainable wellness
3 days each month with no stress about planning, shopping, cooking and cleaning-up
Daily support and accountability during program and live group coaching calls
Significant cost savings, ease and guaranteed monthly entry
Minimum of 3 consecutive months required
Add family member at special rate
Plan for continued wellness
3 days each month with no stress about planning, shopping, cooking and cleaning-up
Quarterly support and accountability before, during, and after the reset
Cost savings, ease and guaranteed quarterly entry
Minimum of 2 consecutive quarters required
Add family member at special rate
Simple way to feel better in your body fast
3 days each month with no stress about planning, shopping, cooking and cleaning-up
Support and accountability before, during, and after the reset
No commitment required
Plan for long-term, sustainable wellness
3 days each month with no stress about planning, shopping, cooking and cleaning-up
Daily support and accountability during program and live group coaching calls
Significant cost savings, ease and guaranteed monthly entry
Minimum of 3 months required
Add family member at special rate
Plan for continued wellness
3 days each month with no stress about planning, shopping, cooking and cleaning-up
Quarterly support and accountability before, during, and after the reset
Cost savings, ease and guaranteed quarterly entry
Minimum of 2 quarters required
Add family member at special rate
Simple way to feel better in your body fast
3 days each month with no stress about planning, shopping, cooking and cleaning-up
Support and accountability before, during, and after the reset
No commitment required
THE next GUIDED GROUP RESET begins ON
October 17, 2023
 The voting for the October soups will be done by early October and will be listed here. Email [email protected] to vote for October soups. 
The September Soups were:
Lentil Zucchini

Lemony Greek Chickpea
Sweet Potato Black Bean

Tomato Basil
Limited Spaces Available for the program, so sign-up now before it sells out.
Registration closes on Wednesday, October 11th.
Choose the plan that works best for YOU!
Delivery available in: Berkeley Heights, Chatham, Madison, New Providence, Short Hills, Mountainside, and Summit, New Jersey.
If you are outside the delivery area, please email: [email protected] to ask about alternative arrangements.
Upcoming Reset Dates 2023
October 17

November 14
December 12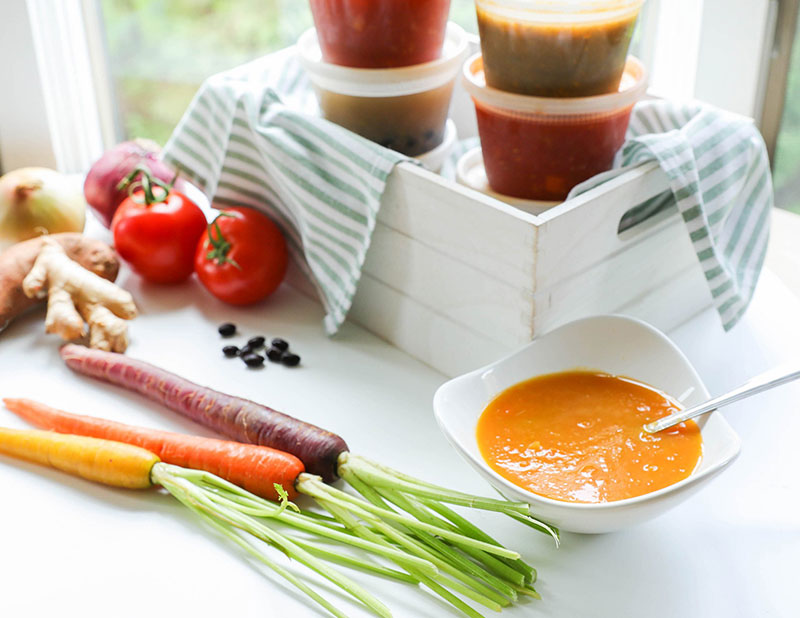 The 3-Day Reset is super easy, the soups are delicious and it is a great way to jumpstart your healthy eating journey. I felt great after the 3 days – less bloated, less tired, diminished cravings and I am sleeping better. I highly recommend it. Elizabeth is great and provides all of the support you need.
Jen Groce
Summit, NJ
The 3 Day Reset was one of the easiest programs I've ever followed, and one of the first programs that I didn't feel like I was starving, yet still saw positive results. This was just what I needed to hit the reset button with my body and food intake.
Meme
Summit, NJ
Before reset, I was eating pretty healthy. The reset allowed me to focus on very clean eating and would say the craving for bread was diminished and I reimagined better snacks options that I will continue to add into my meal planning.
Carol Crincoli
Pure Pilates Director, New Providence NJ
It's a great way to become more mindful about what food you are putting in your body, and stop the carb/sweets cycle. During the Reset, it's easy to stick to eating the soups and healthy snacks (veggies, hummus, etc.).
Lisa Parkin
New Providence NJ
TYPICAL SOUPS
INCLUDE
Carrot ginger, butternut squash, tomato basil, rosemary white bean, lentil spinach, sweet potato lentil, black bean, sweet potato black bean, Tuscan white bean, curry chickpea, mushroom vegetable, tomato vegetable, and more.